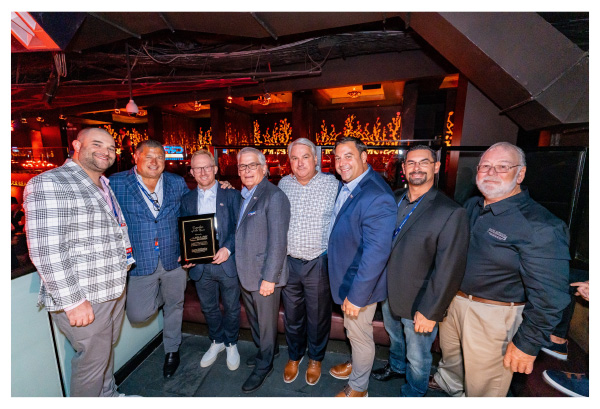 Lake Success, NY – November 18, 2022 – Parts Authority, one of the largest distributors of automotive and truck parts to the aftermarket industry, held its vendor appreciation reception and
award ceremony on Wednesday, November 2nd, 2022, during Industry Week in Las Vegas, Nevada. The event took place at the TAO Asian Bistro and Nightclub in the Venetian Hotel.
"Our vendor reception finally returned after a small hiatus," said Randy Buller, president, and CEO of Parts Authority. "We couldn't be happier to have hosted such a spectacular ceremony honoring phenomenal companies and exceptional partners. We are lucky to work with great leaders in the industry who are dedicated and committed to the success of our company. Congratulations and thank you from all of us at Parts Authority," said Buller.
Parts Authority started the evening by recognizing Highline Warren as their 2022 Supplier of the Year. Highline Warren, one of the nation's premier suppliers of automotive chemicals and products was recognized for their overall outstanding business practices, partnership, and dedication to Parts Authority and its customers.
FCS and Trakmotive were presented with the Partnership Award, recognizing their efforts and willingness to find innovative methods that fuel both Parts Authority's and their own organizations' growth.
Durago and Mevotech were presented with Supply Chain Awards. These vendors maintained a strong and steady supply chain despite challenging circumstances.
Standard Motor Products was presented with the Operational Performance Award. The recipient was measured on communication, organization, and the ability to adapt and grow alongside Parts Authority. Standard Motor P truly delivered exceptional operational performance.
ACDelco received the Program Performance Award. ACDelco was recognized for going above and beyond the "call-of-duty" to grow and support their brand across multiple channels nationwide, in turn benefiting both Parts Authority and their customers.
URO Parts, which offers more than 8,000 high-quality spare parts for European, American, and Asian vehicles, was named the organization's 2022 Import Supplier of the Year. URO demonstrated their ability to be a market leader in the import segment.
Depo was awarded the 2022 New Vendor Award. Depo offers aftermarket lighting and collision parts at competitive prices. They were recognized for their high quality products and ability to move quickly and successfully through the challenging process of becoming a new vendor.
Bosch was presented with the 2022 Marketing Excellence Award. Bosch consistently delivered successful marketing strategies and support throughout the year.
Dorman was presented with the 2022 Catalog and Data Award. From new product data to ACES and PIES to images, videos, and beyond, Dorman proved to be an industry leader in all aspects of cataloging and data.
Driv was presented with the 2022 Brand Recognition Award. Driv was recognized for maintaining strong brand awareness within their portfolio of products and their consistent support of Parts Authority's business.
Bryan Moberly, National Key Account Manager at Bosch, was named 2022 Factory Representative of the Year. Bryan delivered consistent and outstanding support throughout the year, resulting in significant growth for Bosch, Parts Authority, and its customers.
Mike Glazier, President at Glazier Sales Associates, and Robbie Riefberg of NA Williams, were named 2022 Manufacturer Representatives of the Year. Mike and Robbie successfully managed multiple brands and inventory within Parts Authority, while educating team members and customers.
Parts Authority awarded five recipients with the Road Warrior Award. Justin Masseo from Glazier Sales Associates, Hector Garcia from NA Williams, Bill Wilson from KSW Enterprises, Mike Beam from Idemitsu Lubricants America, and Kendell Smith from Standard Motor Products were recognized for their outstanding and ongoing efforts on the front lines.These "road warriors" trained customers, educated team members, and solved problems with passion and precision.